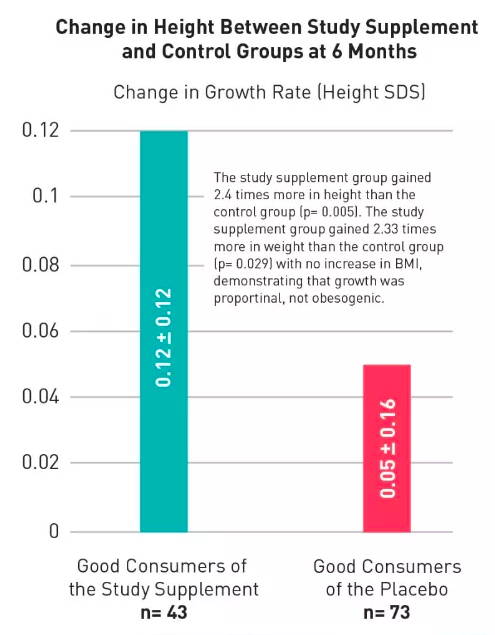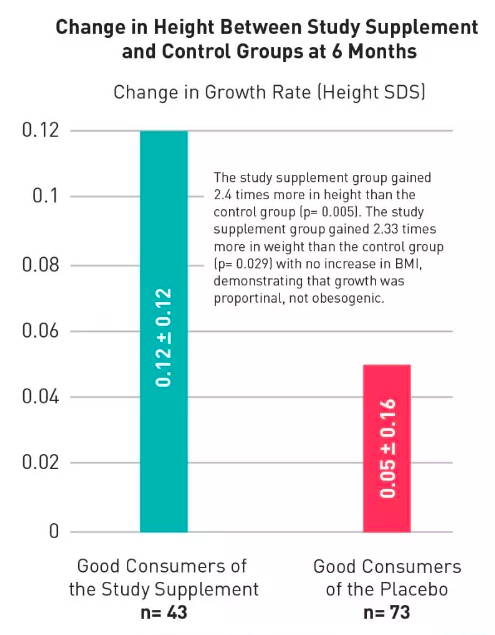 Healthy Height Nutrition Clinically Shown To Help Kids Grow
Read our child growth clinical study to learn more about how Healthy Height can help your child grow with 3 months of use.
In a prospective, randomized, controlled trial (PRCT), 200 healthy, lean, short, prepubertal children, 3-9 years-old were ordered an intervention with Healthy Height nutrition (n =100) or the placebo supplement (n=100) along with their evening meal for 6 months.
At 6 months, the children who consumed at least half of the recommended daily intake of Healthy Height nutrition demonstrated significant increases in height and weight, compared to children consuming the control supplement.
Further, the Healthy Height group showed positive correlations between the amount of Healthy Height nutrition consumed per body weight and gains in height and weight. No significant correlations were found in the control group.
Additionally, although the Healthy Height group showed significant improvements in both height and weight, there was no increase in body mass index (BMI, a measure of body fatness), showing that growth was proportional, not obesogenic.
These findings demonstrate that dietary supplementation with Healthy Height nutrition effectively and safely promotes healthy growth in short and lean prepubertal children ages 3-9.
Questions? Share our brochure with your pediatrician
Download Brochure
Download Brochure